Our

products
---
Specialists in mining equipment.
---
Produtos
Greezy Feeders
1. DESCRIPTION
Vibratory feeders were specially designed to operate with material of large granulometry, being used mainly to feed primary and secondary crushers. Its structure and vibrators are specially reinforced to withstand high operating load and its dynamic effect. The vibrating table has rail grids with adjustable openings for the previous separation of smaller fragments, combining in a single operation the feeding and the pre-classification for the feeding of the crushers. These grids can be replaced by a steel plate when the feed consists only of transport. And also use rails along the entire length of the feeder. With internal linings in replaceable wear plates, the vibrating table is supported on a metallic base by means of highly resistant helical springs, with the purpose of absorbing the vibrations produced by the mechanical assembly so that these are not transferred to the base.
2. HOW IS THE DRIVE SYSTEM?
The vibrator system and its structure with patented support (Brazilian patent granted PI 9914733-5) is the heart of BlueTec.
The drive structure is compact and incredibly resistant to in order to support the tension and compression efforts generated by the vibrators.
3. VIBRATORY MECHANISM
Each module has two grease lubricated vibrators. Each vibrator uses two self-aligning roller bearings, special for vibrating equipment, and has a double sealing system.
Each vibrator is driven independently by an electric motor placed on a stationary pivoted base (non-vibrating) where the transmission is made through a cardan shaft.
4. ADVANTAGES:
-Simple maintenance, the "vibrator" drive sets are positioned on the sides of the vibrating feeder, thus being easy to access and maintain.
-Efficiency in sieving, its design and its linear movement provide a regular flow of material at a controlled speed, keeping the crusher constant and at full production capacity.
-Structural body free of welds, thus preventing cracks and considerably increasing the useful life of the equipment.
-Adjustment for better productivity, the drive systems are designed to allow adjustments in speed and amplitude of vibration ensuring the best performance for your process.
5. TECHNICAL FEATURES:
Available in five sizes for floor mounting on the "OVF" model and two sizes for suspended mounting on the "OVS" models, covering the capacity range from 30 to 520 m³.
VIBRATING CHUTTERS
BlueTec Vibrating Chutters are equipment used for reclaiming material from an industrial process, generally mineral, in order to ensure constant feeding and dosing to any subsequent equipment. They are equipment with a simple design, but with a robust construction to withstand the most severe working conditions. It consists of a fixed body attached to the retention unit (tunnel under a silo) which in turn supports the feed through helical springs.
The fixed body has an outlet gate, adjustable by the use of screws, allowing a pre-established volume of material outlet. Two vibrators with adjustable counterweights at the ends of their shafts allow a second supply adjustment. The feed chute is lined with sheets bolted to its structure for replacement when worn out.

Vibrating Sieves
REVOLUTION IN SIEVE TECHNOLOGY
1. Sifting Technology
A revolution in screening technology, providing vibrating screens for mineral processing that have the best features for high tonnage, low operating cost and 30% or more capacity over conventional circular motion screens.
Modular
- For maximum operational versatility, inclined, horizontal and multi-angle.
Linear Motion
- For fast layering and high feed flow acceleration.
Structural Strength
- For long operating life with no strength issues while being lighter yet stronger.
Simple Maintenance
- For less frequent and shorter maintenance interventions, ensuring maximum availability.
Easy Installation
- They can be assembled replacing sieves quickly and at low cost.
The patented system of vibrators and linear force vibrating frame provides:
-Linear vibration and a modular design allow you to add and optimize screening variables to ensure the best specific application.
-A greater vibratory force in order to handle quantities of feed stream while ensuring better sorting efficiencies.
Benefits of the modular screening concept:
-The modules can be placed horizontally, inclined or with multi-angle configurations.
-Each module can be targeted to provide a specific acceleration between 4-8g to maximize screening efficiency and capacity, eliminating blinding and material entrapment, reducing recirculation and minimizing product contamination.
-Wet or dry BlueTec offers superior performance.
-Presents a counterweight adjustment, variable from 60% to 100% of amplitude, fast and simple, not requiring special tools.
Customize sieve decks:
-The decks can be customized in each module, changing the angles, speed and acceleration, for scalping services, classification in dry or wet application.
-The canvas surface can be tensioned laterally or longitudinally, or secured by clamps along the entire surface.
What are the benefits?
- Thinner layer, improving performance.
-Superior sieving efficiency, providing cleaner products.
-Increased capacity – more tons of feed per screening station.
-Reduction of the cost of sieving, with the improvement of the quality of the product.
How is the drive system?
The vibrator system and its structure with patented support (Brazilian patent granted PI 9914733-5) is the heart of BlueTec.
Many benefits were possible thanks to this linear vibrating force frame (QFVL).
The drive structure is compact and incredibly strong, and contains the tensile and compressive stresses generated by the vibrators.
Thanks to the solution of the structural set of vibrators, it is possible to work the screen with 8g of acceleration, if necessary.
Difficult, dirty or muddy materials receive intermittent acceleration of up to 10g when adding a variable frequency control panel.
How it works?
-The vibrators are attached to a linear vibrating force frame (QFVL), independent of the structure of the screening module.
This frame supports all the compression and lateral tension generated by the vibrators.
-The side plates are not support for the vibrators, thus eliminating the tensions that in other types of sieves are the main causes of cracks and damage to the side plates.
-The QFVL is mounted at 45 degrees to the horizontal line.
-The vibrators are added by motors in opposite rotation, via cardan shaft. The motors are mounted stationary independently of the screen body, along the sides.
-The vibrators are self-synchronized. There is no interconnection between the vibrators.
-The frame beams and QFVL are bolted to the side plates with high-strength bolts, forming a highly rigid structure, without the undesirable effects of stress concentration caused by welded connections.
2. Models and Arrangements
BlueTec screens are presented in several models, as single, double, or triple module in adverse inclinations from multiangular to horizontal or even with negative inclination.
It can be from one to four decks. Modules are typically limited to 20 feet (6m) in length and 12 feet (3.6m) in width.
3. Modular System
BlueTec screens can be supported on a "skid" structure made of welded profiles. The modules are designed in such a way that they fit perfectly into the next, allowing material to flow from one module to the next without spillage. The frames have tubular reinforcement in the shape of a diamond for greater transverse rigidity.
4. Linear Vibratory Force Frame
The patented Linear Vibration Force Frame, is made of welded plates, calculated by finite elements in order to guarantee maximum stresses safely. It forms a rigid and independent structure of the sieve body. Linear motion action is transferred to the screen body without creating high stresses on the side plates.
5. Vibratory Mechanism
Each module has two grease lubricated vibrators.
Each vibrator uses two self-aligning roller bearings, special for vibrating equipment, and has a double sealing system.
Each vibrator is driven independently by an electric motor placed on a stationary pivoted base (non-vibrating) where the transmission is made through a cardan shaft.
6. Benefits
-The BlueTec Sieve can be used with a wide variety of screens.
-The BlueTec's can be equipped with different types of screening surfaces. They can accommodate conventional wire mesh, perforated sheet metal, rubber screens and a variety of polyurethane surfaces.
-Static (non-vibrating) washing system with water sprinklers over upper deck and between decks is available.
-High efficiency total enclosure system are also available.
What are the mechanical and structural benefits?
- Crack-free structure with long equipment life.
-Easy and low cost maintenance procedures.
-No long, heavy shafts or complex gear boxes.
-Simple amplitude adjustment that can be performed in minutes.
-Lower vibrating mass, which means lower energy consumption and more useful vibration for sieving.
See BlueTec's installation requirements
-New BlueTec's installations use lighter support structures.
-The installations of other sieves can be easily upgraded to use BlueTec's, with increased sieving capacity in the same area.
-Modular screens are easier to handle and install than single bodies of conventional screens.
Financial benefits for BlueTec users
-Sieve lighter but more resistant, less repair and long structural life.
-Better power-ratio versus tons of feed ensures energy cost reduction.
-Higher "G" accelerations, allow screening of difficult and sticky materials.
-Variables can be adjusted independently to each module for optimized efficiency and production performance.
-Multiple configurations offer maximum screening area in a pre-existing structure.
-Lower installation cost in the modular version than heavy and large single body screens.
-Reduced dynamic loading of the structure, the bracket eliminates harmful vibration and offers quieter operation.
-The drive motors work in pairs and start simultaneously.
-Each vibrator has independent lubrication points. Vibrators as a complete unit can be changed easily and quickly. There are no heavy shafts or large diameter center tubes that require a lot of labor time for disassembly and/or maintenance.
-The vibrators are positioned outside the sieve, isolated from dust and water when sieving is wet, as well as from high temperatures when sieving hot materials.
-BlueTec Screens do not use "V" belts or pulleys.
-The BlueTec's are made up of a screwed assembly that facilitates the use and exchange of parts.
-Amplitude change can be done in a matter of minutes, using common tools, and there are 7 adjustment positions.
-Modular design allows material to be rolled or cascaded as it falls from one module to another. This results in better sieving quality.
-Elimination of the central tube where the main shaft enters a conventional sieve. In this way, access between decks is much easier for maintenance and changing screens.
7. General Specifications
VSI Bluetec Impact Crusher
DESCRIPTION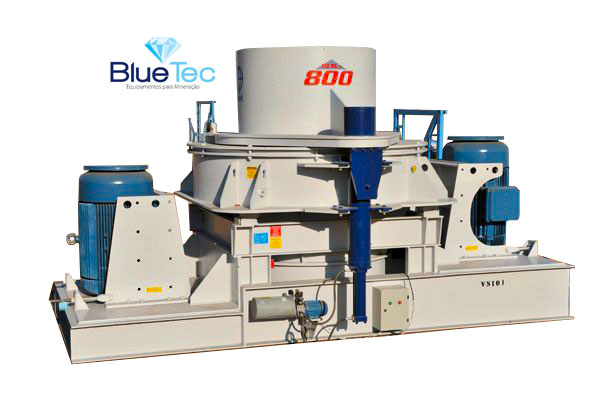 BlueTec Vertical Shaft Impact Crushers (VSI) are designed for crushing a wide range of materials such as: stone, ores, minerals, among others, transforming them into a finer cubic product. The equipment produces gauge and cubic material with the "stone on stone" impact technology, being able to maximize the production of fine or thick pieces just by varying the rotor speed, as an example for this speed variation the use of frequency inverter in the drive.
OPERATION PRINCIPLE
The machine works like a centrifugal pump, and the material enters in the center of the rotor and is thrown against the side wall which are coated with the same material or steel plates.
The reduction is obtained by the transfer of kinetic energy that takes place inside the rotor where the material to be crushed is accelerated. The material exits the rotor through the side exit ports. The material at high speed reaches the side wall of the casing and suffers reduction by being at the same time hit by subsequent material, ocurring in this case a chain reaction in the crushing chamber between the wall and the rotor. In this action there is a swirling of material in the crushing chamber, with various modes of reduction such as grinding, impact, shearing, which occurs when the kinetic energy of the material is reduced, which then falls by gravity to the lower discharge.
ADVANTAGES OF VSI BLUETEC
-Produces 100% cubic product. Which guarantees savings of cement in concrete and asphalt mass in asphalt.
-The production of products may vary depending on the change in rotor rotation and rotor type.
-Can manufacture excellent crushed sand. It has higher productivity of fines in the installation.
-It has a high degree of reduction.
-Hydraulic opening of the top cover allows easy access and quick change of any part.
-All disassembly is done from above.
-It has a model for each type of application.
-It is a proven product with more than 300 machines operating in Brazil.
-Extra efficient rotors with 4 and 5 outputs. Up to 40% more efficient than traditional 3 output rotors.
-Extra heavy construction suitable for the most demanding application.
-Fully balanced, allows installation in light structures, not requiring sophisticated foundations.
-Mounted on cushions and isolated from the motors, it guarantees its long life.
-Vibration key prevents in case of accidental breakage of the tip, damage to the bearings.
-When fed properly, it does not generate dust.
-Assembly of tungsten tips and central distribution plate type "drop in", easy to replace.
TECHNICAL SPECIFICATIONS
*Capacity table in ton/h measured at the machine inlet, in closed circuit. The capacities shown in this chart are for stone with the appropriate feed size and density of 1.6 ton/m³ and the values are approximate and may vary according to the type (composition) of material to be fed.
OC HD Series Cone Crusher
DESCRIPTION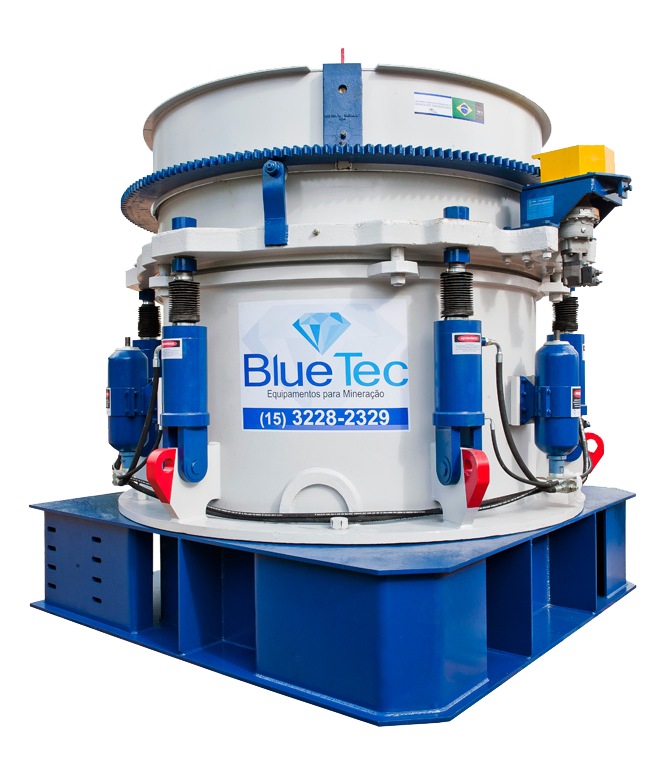 OC HD Series Cone Crushers are robust equipment that provide high productivity, low operating cost and long service life, in addition to being the ideal companions for VSI type impact crushers.
Overloading system for non-crushable materials takes place through hydraulic cylinders and hydropneumatic pressure accumulators. Due to the chamber's wide relief stroke, cleaning to clear equipment becomes easy, thus reducing downtime and increasing productivity and reliability.
The adjustment of the opening of the equipment is through an automatic hydraulic motor, making it possible to make quick adjustments through electric buttons on the control panel.
The crushers are equipped with two hydraulic units, one for lubrication and the other for control. The new composite unit in the HD series is of extreme technology and reliability, ensuring a longer service life for all components.
An electrical control panel adjusts the entire hydraulic lubrication and safety system to the normality of the system. When there is any irregularity in the system, a sound signal is triggered and the equipment is automatically turned off.
MAIN FEATURES
-Reduction of up to 30% in energy consumption;
-Simple and compact design;
- Entrance area free of ribs (completely unobstructed);
- Larger feed size capacity;
-High productive capacity;
-Easy access to internal components;
-Easy maintenance and low costs;
-Simple and quick regulation through hydraulic system;
-Low operating cost;
-Ideal for producing material for VSI's
CRUSHING CHAMBER
A new liner technology has been developed for this equipment, where there are slots in the mantle and liner for all available crushing cavities.
This coating profile allows for a better gripping condition for the material to be crushed, with this it was possible to develop an equipment with a feed opening that is different from our competitors, making the equipment with the highest feed size capacity on the market, allowing it to work in a comfortable condition as a secondary in a crushing plant, and making possible as well that the primary crusher doesn't work in a severe and very closed condition.
In addition to the advantages described, this type of coating also allows for greater production capacity, as there is a significant reduction in crushing efforts. In this way, the installed power will be consumed with the increase in production.
HYDRAULIC UNIT
Hydraulic unit with dual functions, one for lubrication and the other for controlling the casing lock, opening adjustment and unblocking the crushing chamber. It is operated by an electrical panel that is responsible for monitoring the safety of the equipment.
HYDRAULIC LOCK SYSTEM
Monitoring is done by pressure transmitters which turn on the oil pump when, for some reason, there is a drop in pressure in this system, keeping the system at constant pressure at all times when in the crushing process.
OVERLOAD SYSTEM
The Cone Crusher is designed with a hydraulic system as an integral part of the machine. The equipment's hydraulic unit incorporates the lubrication, regulation and safety function against overloads, the last can also be used for cleaning or unblocking the crushing chamber. The following series of illustrations explain the principles of the working system.
1st step: When under normal working conditions, the oil pressure in the cylinder is equal to the gas pressure in the accumulator, the overload safety system is fully balanced so that the adjustment ring sits perfectly on the main housing of the equipment.

2nd step: When there is an overload, the adjustment ring together with the upper housing and coating are lifted and part of the hydraulic oil is transferred from the cylinder to the pressure accumulator, compressing the nitrogen gas bladder.

3rd step: As soon as the uncrushable material passes through the crushing chamber, the hydraulic oil previously transferred to the accumulator instantly returns to the overload cylinder, leaving the equipment in the correct working position with the system balanced.
CLEANING AND CLEANING OF THE CRUSHING CHAMBER
In the event of excessive power supply or a power outage, causing the equipment to clog, this can be resolved with great efficiency as follows: Through the control panel, it is possible, with the simple touch of a button, to lift the overload cylinders, with this will raise the set of the adjustment ring and upper housing, which will imply in clearing the chamber, after the chamber is empty, the cylinders return to the normal working position. This clearing procedure does not affect the opening of the equipment regulation.
1-Additional opening through the overload cylinder (for unblocking)
2-Normal opening of the equipment
TECHNICAL SPECIFICATIONS
PRODUCT GRANULOMETRY TABLE (% throughput in square mesh as a function of adjustment – mm)
PRODUCTION CAPACITY (ton/h) OPEN CIRCUIT
NOTE: Apparent density considered 1.6ton/m³. The established capacity is a help tool for the application of the equipment. However, it is important to consult the factory for the correct application. The real production depends on physical characteristics and proper analysis of the feed material.

NOTE: The dimensions specified above are for information only. For layout studies, contact BlueTec.
Bluetec Jaw Crusher
DESCRIPTION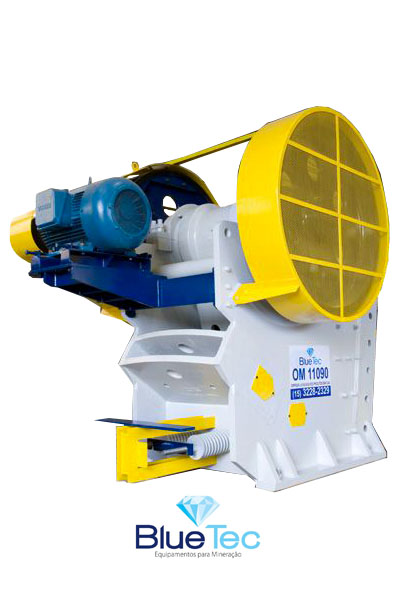 BlueTec Jaw crushers are robust equipment designed and made with high quality material, aiming at maximum production, reduction of operating and maintenance costs. In jaw crushers, all parts that are capable to wear with time are made from the highest quality steels. It is for all these factors that BlueTec jaw crushers are characterized by unrivaled durability. Our crushers have a reinforced casing made of ASTM A 36 steel plate, electrically welded and thermally treated for stress relief, it includes flywheels cast in ASTM A216 steel balanced with high inertia, one of which is machined with grooves for "V" belts, has also the feature of symmetrical chamber thus providing interchangeability for wear parts. The fixed and mobile jaws are cast in manganese steel and have identical construction, thus making it easier for the customer to purchase this component without any doubts. Simply mount them upside down relative to each other.
HIGH RELIABILITY
BlueTec jaw crushers feature a heavy-duty design built to withstand the toughest workloads. Castings are manufactured from ASTM A216 steel which, when combined with steel side plates, high manganese jaws and liners, heavy-duty eccentric shaft, and four matched super driven bearings, result in superior durability and reliability. The absence of stress generators, such as soda beads, guarantees excellent impact resistance.
Traditional jaw crusher design
-Without good knowledge of the loads;
-Without a good method of calculating voltages;
-With experimental corrections results in this: A structural chain with dispersed factors and services
Modern crusher design
-Much lighter, same resistance as the Traditional Project;
-A structural chain with converging service factors.
BlueTec jaw crusher project
-Structural current with converging service factors, but significantly higher.
UNPARALLELED PERFORMANCE
BlueTec Jaw's superior performance is due to the combination of high reduction ratios with increased capacity regardless of feed material conditions. Higher rotation and optimized kinematics combined with higher eccentricity and effective crushing angles guarantee unrivaled performance. These features allow for more stages of compression, which increases performance. Jaw profiles, designed to prevent clogging, maximize crusher output.
The bipartite cast steel bearings ensure a perfect fit to the machine frame, also avoiding unnecessary loads on the bearings. The split bearing facilitates bearing maintenance, with no need to disassemble the machine or even remove the equipment from the installation location.
Another important feature is the quick adjustment system for crusher regulation, made through fixed wedges that adapt to the opening need. The crusher setting can be adjusted manually in a few minutes with the right tools and without the need to handle dirty and heavy shims. You can choose between mechanical adjustment or even hydraulic wedges.
MAIN FEATURES
1-Symmetric Chamber;
2-Split Bearing with support bushing;
3-Steering wheels assembled with Ringfeder;
4-Romings and shaft for extra-heavy duty;
5-Front carcass and chin in closed profiles;
6-Chin Guard for extra-heavy duty;
7-Dry-toggle type shaker;
8-Unique coatings (jaws) (fixed and mobile);
9-Interchangeable side wedges;
10-Casing composed of castings and laminates welded by electroslag (without sharp corners or screws);
11-Opening adjustments by wedges (automatic);
12-Slotted wheel;
13-Motor coupled to the housing;
14-Lower support of screwed jaws;

Capacities are based on granitic rock, cleaned and blasted with apparent density of 1.6ton/m³. Smaller values apply to the feed where material below the APF has been removed. Higher values refer to a feed that includes fines. About 65-85% of the crushed product is less than the APF. The recommended opening depends on the size and crushability of the material fed and the capacity required.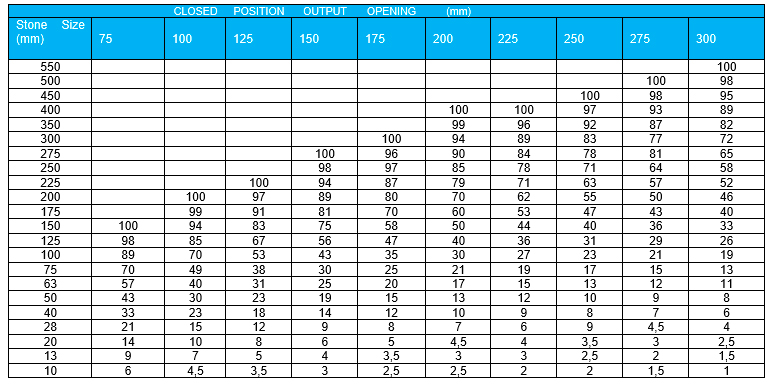 PROJECT CHARACTERISTICS
-All welds at low voltage points are away from the main elements;
-Machining of bearings after welding and stress relief;
-The front part cast in box beam is light and resistant;
-The jaw seat wall is equipped with reinforcements.